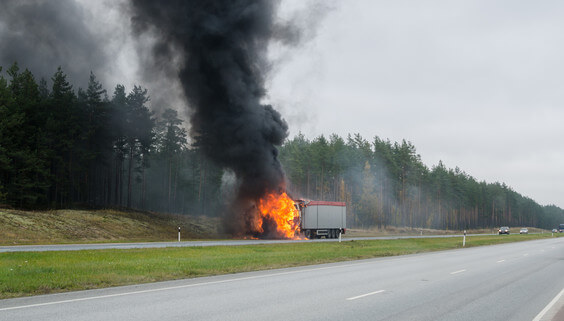 Baton Rouge, LA – Truck crashes are a serious source of property damage and injuries on Louisiana's roads. Many drivers of commercial vehicles and semi trucks work long hours to meet strict deadlines, and a number of problems can occur due to this stress and their job conditions. A few significant problems related to these working conditions tend to result in many accidents during deliveries. Regardless of these conditions, drivers and their employers may still possibly be sued if their behavior on the roads is considered negligent.  
Health problems
Drivers rarely have the personal time to make sure they are alert and in good health while driving. Issues related to sleep deprivation, substance abuse while driving, and sudden medical emergencies can affect the driver's ability to work safely. If the driver is on a long trip away from their primary doctor, with no extra time to stop for an examination, their health issues will go unchecked until a much later time. 
Unfamiliar areas
Truckers who make interstate deliveries to new areas may not know the speed limit, where to find exits, places to stay and sleep, areas to find fuel and food, and other important destinations. If they need to spend extra time with navigation and mapping programs while trying to drive, this can affect their focus and the driver will be more likely to make a mistake. Distracted driving has become a leading cause of accidents throughout the United States. 
Stress and anxiety
Commercial driving is one of the most dangerous jobs in the United States, and many drivers are aware of the fact that they face the possibility of injuries or death each day they work. Being stuck in traffic is stressful as well, and a brief moment of lost focus can have devastating results when the person is operating a vehicle that weighs several tons and is difficult to maneuver. 
Lawsuits after an accident
Some of these poor working conditions may possibly be used as evidence of negligence in a lawsuit against the truck driver's employer. A trucking company or individual driver who is found to ignore known risks may have to compensate victims for any injuries or property damage that they cause. In the case of trucking accidents, these situations often result in thousands or millions of dollars worth of total losses due to things like lost cargo, costs of medical treatment, vehicle damage, and lost wages.
Advice from Louisiana accident lawyers
Miller, Hampton, and Hilgendorf is an experienced group of attorneys that focuses on motor vehicle accidents in the Baton Rouge area. Anyone who needs legal advice after a collision can contact the firm to learn about the possibility of a lawsuit. 
Firm contact info:
Miller, Hampton, and Hilgendorf
3960 Government St., Baton Rouge, LA 70806
225-343-2205
www.mlhlaw.com
https://truck-accident.usattorneys.com/wp-content/uploads/sites/2/2021/06/photodune-13705941-the-burning-truck-on-the-road-xs.jpg
355
564
brian
https://usattorneys.com/wp-content/uploads/sites/2/2020/01/logo.svg
brian
2021-06-16 11:06:18
2021-06-16 11:06:19
What are some of the working conditions for truck drivers that contribute to accidents?