Dump truck rollover causes fatal injury and destroys homes near Pittsburgh.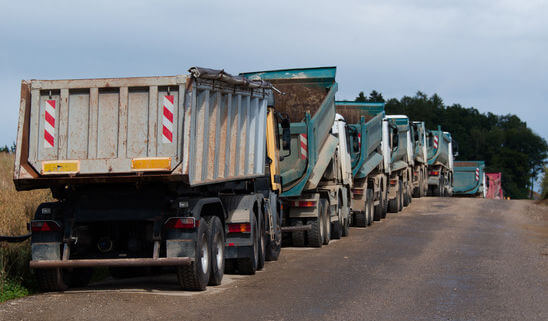 Pennsylvania – August 7, 2022
Truck accidents in Pennsylvania are common enough for other roadway drivers to become educated on actions they can take to avoid crashes that can cause expensive damage loss and personal injury.  Drivers can:
Slow down,
Clearly indicate actions before taking them,
Do not change lanes directly in front of a big truck without allowing adequate room,
Make sure all vehicle lights are working,
Learn about truck drivers' blind spots,
Allow plenty of room for truck drivers to make right turns,
Do not follow too closely behind a big truck,
Avoid playing chicken with big trucks,
Pay attention to the truck driver's load,
Avoid distractions while driving,
Do not drive aggressively, especially around big trucks.
Increased caution and accident reduction.
Truck accidents can be reduced when other drivers use increased caution, but there are times when something goes awry, and a truck driver is involved in a single vehicle crash.  This was the case of an Allegheny County dump truck driver as his truck rolled over while he was attempting to turn the big truck on Patton Street from Jefferson Street.  The driver suffered fatal injury and his truck crashed into two homes leading to one demolition and another upcoming.  When emergency crews responded to the scene, they found a tipped over dump truck belonging to Big's Sanitation and the fatally injured driver whose death is under investigation.  There were two teenagers sleeping in the second home at the time of the crash who were uninjured. Truck accident victims and surviving loved ones may ask themselves "Where can I find attorneys near me?" when they need assistance recovering compensation to replace property, pay medical bills and lost wages, or funeral expenses when a victim suffers fatal injury.
Responsibility for crash.
Determining liability after a commercial truck crash is difficult and specialists are usually sent to the scene to identify any conditions that will give insight as to the reason behind the crash. Insurance adjusters may try to reduce settlements for driver violations, once there is some determination of fault assigned to each driver. Driver distraction is a common driving offense, and is serious in the State of Pennsylvania, but a determination needs to be made before insurance settlements will reflect driver negligence. A Pittsburgh truck accident lawyer can be of assistance when dealing with insurance companies, calculating property damage, medical expenses and future losses that will make up the total award after an accident that results in injuries. The actions of the drivers will be considered when settlements are estimated.
Compensation for harmful losses.
Insurance compensation for significant property loss and physical harms may be possible in the State of Pennsylvania.  Call an accident attorney who can help support negligence by assigning "fault" in a legal proceeding that addresses property damage, physical injuries, and wrongful death. Damages that may be recovered include:
Property replacement
Medical bills
Current and future compensation losses
Pain and suffering
Loss of care, companionship
Estate administration expenses
Funeral expenses if a wrongful death occurs
No fault insurance.
Under Pennsylvania's no-fault system, a driver may turn to his or her own insurance company for compensation for injuries up to the personal injury protection, or "PIP" limit, regardless of fault. Drivers also have the right to circumvent Pennsylvania's no-fault law and proceed directly against the at-fault driver under certain circumstances.
Hire an attorney.
An experienced attorney at Scanlon and Wojton Law Firm can be instrumental in reviewing crash reports, medical records, witness reports, and other facts to determine the extent of damages and fault in rollover dump truck crash in Pennsylvania. They can work with insurance companies or initiate litigation when necessary.
Scanlon & Wojton, Attorneys at Law
The Mitchell Building
304 Ross Street, Second Floor
Pittsburgh, Pa 15219
Phone: (412) 918-1241
Fax: (412) 235-7275
Sources:
https://www.wtae.com/article/wilmerding-crash/40780724
https://truck-accident.usattorneys.com/wp-content/uploads/sites/2/2021/09/photodune-3346833-dump-trucks-xs-1.jpg
364
548
nora
https://usattorneys.com/wp-content/uploads/sites/2/2020/01/logo.svg
nora
2022-08-08 11:57:18
2022-08-15 08:45:35
Dump truck rollover causes fatal injury and destroys homes near Pittsburgh.