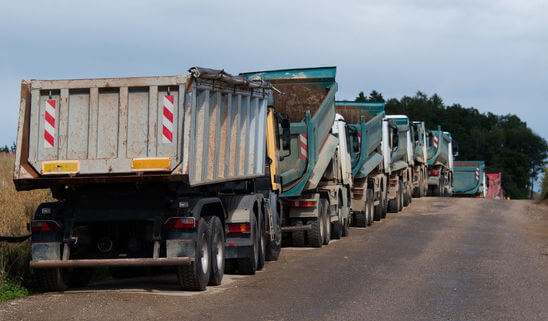 Traffic pileups are always dangerous, but things become even more serious when a semi-truck is involved. When these large, heavy vehicles smash into a mass of stopped cars, the consequences can be terrible. This is exactly what happened in a traffic incident on the Utah-Wyoming border, and two people lost their lives. A semi-truck was the catalyst for the incident, stressing the importance of semi-truck safety for Utah.
If you have been injured in a semi-truck accident in Utah, it makes sense to get in touch with a qualified, experienced truck accident attorney as soon as possible. Due to the statute of limitations and other factors, it's best to act quickly. Connect with a legal professional, and you can start pursuing a settlement for your injuries in an efficient manner. This settlement can provide you with financial compensation for medical expenses, missed wages, and other damages.
Two Dead After Truck Accident on Utah Border
At around 1:30 PM, traffic was backed up due to an earlier incident along the Utah-Wyoming border near Evanston. A truck was not able to see the traffic pileup ahead, and the driver failed to slow down in time. This created a "chain reaction crash" as the truck rear-ended an SUV. The SUV then jolted forward, rear-ending the car in front of it.
Both occupants of the SUV lost their lives. The driver of the SUV was transported to a nearby hospital in Utah, where he died from his injuries. The passenger, a minor, was pronounced dead at the scene. Both of these individuals were wearing seatbelts, but the force of the crash was enough to cause fatal injuries.
Filing a Wrongful Death Claim
In this situation, the surviving family members of the deceased victims may have had an opportunity to file a wrongful death claim. This is when the family members file a personal injury lawsuit on behalf of their dead loved one. This type of lawsuit is similar to a normal personal injury claim, but the damages are slightly different. For example, families can receive funds for funeral costs after receiving a settlement through a wrongful death claim. They can also receive compensation for things like loss of consortium and loss of future wages.
Enlist the Help of a Qualified Attorney
If you've been searching the St. George area for a qualified, experienced truck accident attorney, look no further than Truman & Radford, Injury Attorneys. We understand how traumatic and life-altering a truck accident can be, and we are committed to helping injury victims in Utah. With our help, you can recover a considerable settlement that will cover medical expenses, missed wages, and many other types of damages. Reach out and book your consultation today.
Truman & Radford, Injury Attorneys
Tel: 435-692-9000
20 North Main Street, #309
St. George, Utah
https://truck-accident.usattorneys.com/wp-content/uploads/sites/2/2021/07/photodune-3346833-dump-trucks-xs.jpg
364
548
efigueira
https://usattorneys.com/wp-content/uploads/sites/2/2020/01/logo.svg
efigueira
2021-07-22 13:39:15
2021-07-22 13:39:15
"Chain Reaction Crash" on Utah Border Leaves Two Dead