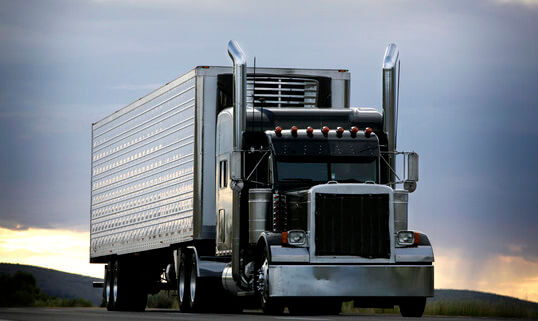 Pennsylvania – April 17, 2021
A multi-vehicle crash involving a tractor trailer in Lehigh Valley, not far from Philadelphia, sent 10 people to the hospital.  Hamilton Boulevard in Upper Macungie Township was the scene where a tractor trailer failed to stop behind a line of non-moving vehicles in traffic hitting a pickup truck that was pushed into a van that was subsequently pushed into a car.  Law enforcement said the 10 people taken to the hospital sustained varying degrees of injuries.  Weather and roadway conditions at the time of the crash were not a factor, and investigation was to follow.  Accident victims should consult with a personal injury lawyer after a multi-vehicle accident involving a truck as property damages and bodily injury may be worse than an accident with a passenger car.  Legal counsel will be able to guide any actions with insurance claims, or formal litigation if it is warranted to cover the injuries and property damages.
Truck size.
 A tractor-trailer is approximately 65 feet in length and can weigh up to 80,000 pounds when fully loaded, causing any type of crash between it and other vehicles, especially slow-moving, or non-moving vehicles in traffic, to sustain catastrophic property damage, bodily injury, or death. Commercial trucking companies are deadline-imposed businesses, and occasionally driver errors are caused by fatigue, safety violations, or overloaded cargo. Accident victims should contact an attorney regarding personal injury, property damage, or loss of life resulting from a truck accident to determine if negligence played a part and if legal action is required.  When an individual fails to exercise the degree of care expected of someone in a similar situation, and it results in an injury of some sort, it is called "negligence."
Regulations and insurance.
Pennsylvania commercial trucking laws are in place to protect the public and reduce motor vehicle accidents. There are state and federal regulations that require tractor-trailer trucks to be inspected and maintained on a regular basis.  The state of Pennsylvania requires a tractor trailer truck to carry a much higher minimum liability insurance policy than a passenger vehicle.
A truck accident attorney can explain Pennsylvania's  "modified comparative negligence" rule, where an individual can still recover damages in a personal injury lawsuit, but the amount of compensation will be reduced by an amount that is equal to their percentage of fault, but a plaintiff can only seek damages from the defendant if they are less than 51 percent at fault.
Identified violations which are common in Pennsylvania include:
Improper Maintenance
Driver Fatigue
Distracted Drivers
Commercial Company Negligence
Unsecured Loads
Driving in Extreme Weather
Wrongful death.
In Pennsylvania, family members, or legal representatives must file a wrongful death legal action to secure compensation when a loved one dies because of the negligent, reckless, or deliberate act of another.  A Pennsylvania personal injury attorney can assist with the recovery of damages in these lawsuits that may include:
Medical bills and treatment,
Funeral and burial expenses,
Lost wages compensation,
Compensation for pain and suffering,
Punitive damages based on individual case.
Seek legal counsel.
Trucking accidents are complex and often require involved research including collecting and reviewing trucking company records, maintenance, and travel logs, along with certificates of health for drivers and other records or police reports that can shed light on the cause of the accident.  Call an accident attorney in the Philadelphia area to determine "fault" and actions toward a legal proceeding to address any damages and injuries sustained.  Victims who have lost a loved one in an accident with a truck, should seek the assistance of an experienced truck accident lawyer who will fight for their right to compensation.
PhillyLaw, LLC
2021 Locust St.
Philadelphia, PA 19103
Phone: (215) 515-2050
Sources:
https://www.wfmz.com/news/area/lehighvalley/10-people-injured-in-crash-on-hamilton-boulevard/article_ee64de5a-9fb4-11eb-adfd-9fbfeaf0f8b5.html
https://www.legis.state.pa.us/WU01/LI/LI/CT/HTM/42/00.071.002.000..HTM
https://www.fmcsa.dot.gov/safety/data-and-statistics/large-truck-and-bus-crash-facts
https://truck-accident.usattorneys.com/wp-content/uploads/sites/2/2021/07/photodune-3150185-truck-xs.jpg
371
538
nora
https://usattorneys.com/wp-content/uploads/sites/2/2020/01/logo.svg
nora
2021-07-20 16:37:20
2021-07-20 16:37:21
A tractor-trailer crash resulted in injury to at least ten travelers in Pennsylvania.